Mercedes NEC Key Pro
Includes:

STMB001, STMB002, STMB003, STMB005, STMB006, STMB007, STMB008, STMB010, STMB011, STMB012, STMB013, STMB022, STMB023, STMB024
For all information please check the links below.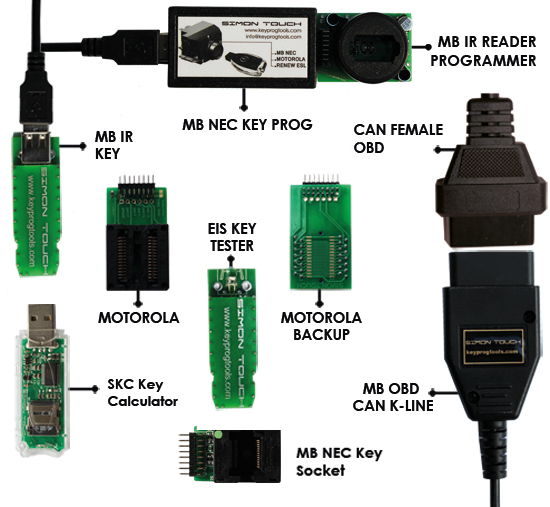 STMB001 Read All EIS/EZS Types VIA IR/OBD/CAN and K-LINE.
STMB002 EIS reading by CAN/OBD - Data needed for Key/ESL calculation (hashes)
STMB003 Read password from Motorola EIS/EZS VIA IR and ZIF Socket/With and without existing key.
STMB005 EIS Reading /Writing of additional information by CAN/OBD/IR/ Personalize EIS by OBD.
STMB006 SKC (Simon Key Calculator) Offline fast key calculation.
STMB007 NEC/Motorola all version read / write by IR
STMB008 NEC V.51/ V.57 Password key reader on adapter board
STMB010 Motorola all versions read/erase/write on adapter board.
STMB011 Read password from BE key/China key/erase/write key dump Via IR.
STMB012 Grey key functionality - read/ prepare/write Grey key for programming new EIS.
STMB013 Read Original key/BE Key/China Key/BGA Key status/key version/Frequency VIA IR
STMB022 ECU Renew Engine control units online.
STMB023 - YES - EIS Reset Odometer by CAN / OBD
STMB024 EIS Change odometer by CAN /OBD

Mercedes E Class key programming when all key lost.
Device can be updated to full.
DOWNLOAD MB NEC MOTOROLA IR KEY PROGRAMMER TOOL EASY MANUAL V5
DOWNLOAD SKC Key Calculator MANUAL
DOWNLOAD MB NEC MOTOROLA IR KEY PROGRAMMER MANUAL