Tag Key Tool software 7.0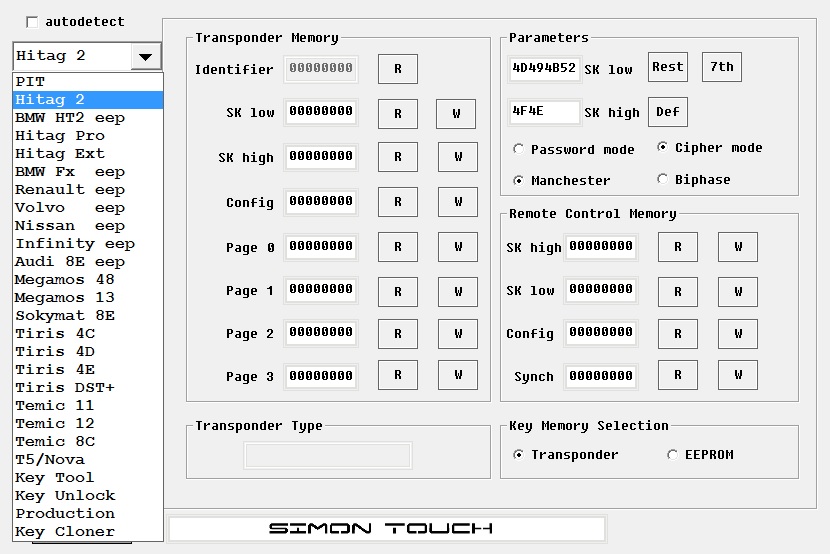 you need to buy the interface AVDI (700 euro ) and any software known as special function for Tag kye tool from the list below to be able to perform operations .
You can add any special function software you want to the same interface .
Please always read carefully all specifications listed, find below the special functions name , descriptions and prices
With this software you can program keys/transponders for vehicles, bikes or trucks from different brands that using Megamos 13, Megamos 48 (Megacrypt I), Megamos 8E (Megacrypt II), Texas 4C, Texas 4D, Texas 4E, Tezas DST+, Temic 11, Temic 12, Temic 8C, T5, TK5551, TK5561, Philips PIT - 7930/7931/7935, Philips HITAG2 – 7936, 7941, 7942, 7943, 7944, 7945, 7946, 7947, 7953, 7961, Hitag-Pro 7937, 7938, 7939, 7952, Hitag-Extended, JMA TPX1 and TPX2
This software is compatible with AN020 and ZN001 transponder programmers. Just need dump from your immobilizer, put your NEW KEY (or transponder) on the programmer and generate working key! You can also produce preprogrammed transponders for different vehicles.
•Utility for programming of key by dump of CAS4 - latest BMW Fx series, including those with MCHCS12XEP100 with mask 5M48H. NO OTHER TOOL WITH SIMILAR OPTION!
•Free transponder production ID67,ID68,ID70,TP22,TP23,TP24,ID45 Peugeot, ID40 Chery, ID41 Nissan, ID73 Mitsubishi ... and many others
•Big amount of utilities for programming of key by dump of immobilizer ( Fiat, Toyota, Ford, BMW, Audi/VW Kessy, Mercedes, Jeep, .. )
•Easy cloning of transponders - Temic 8C, Megamos 13, Temic 11 onto TK5561
•Easy cloning of transponders - Texas 4E
•Easy cloning of transponders - Megamos 13, Temic 11/12 onto TK5551
•Easy cloning of Toyota/Lexus/Scion Texas TIRIS 4D transponders onto TPX2 transponder
•Easy cloning of ALL TYPES Texas 4D transponders onto TPX2 transponder - required internet connection
•Easy cloning of ALL TYPES Texas 4C transponders onto TPX1 transponder
•Programming of used BMW keys 7943/7944
Special Functions :
* KT010 --- Free for all owners of ZN001 This software will provide you access to the internal memory and configuration of transponders.
Available tool for generation of keys by dump of immobilizer system of the vehicle (more than 1000 models are covered).
Provided is the ability for preliminary preparation of transponders to be ready for usage with diagnostic equipment.
Available functionality for cloning of Megamos 13, Temic 11, Temic 12, Texas 4C, PIT ID33, Tiris 4D, Tiris 4E, Temic 8C (Mazda, Ford, Proton).
list with currently supported vehicles, trucks, and bikes
list for all transponder that can be programmed with tag key tool