Mercedes NEC IR KEY-ESL Full Kit
Includes:

STMB001, STMB002, STMB003, STMB005, STMB006, STMB007, STMB008, STMB010, STMB011, STMB012, STMB013, STMB015, STMB016, STMB017, STMB018, STMB019, STMB022, STMB023, STMB024.
For all information please check the links below.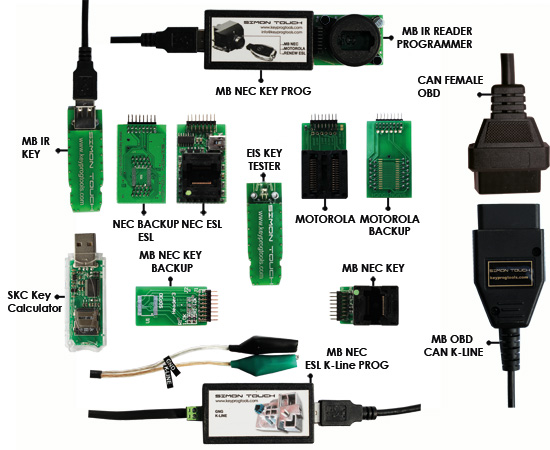 NO TOKENS NO LIMITS



STMB001 Read All EIS/EZS Types VIA IR/OBD/CAN and K-LINE.
STMB002 EIS reading by CAN/OBD - Data needed for Key/ESL calculation (hashes)
STMB003 Read password from Motorola EIS/EZS VIA IR and ZIF Socket/With and without existing key.
STMB004 EIS reading by IR - Password from any EIS (Motorola/NEC with or without existing Key)
STMB005 EIS Reading /Writing of additional information by CAN/OBD/IR/ Personalize EIS by OBD.
STMB006 SKC (Simon Key Calculator) Offline fast key calculation.
STMB007 NEC/Motorola all version read / write by IR
STMB008 NEC V.51/ V.57 Password key reader on adapter board
STMB009 NEC keyless read/erase/write on adapter board.
STMB010 Motorola all versions read/erase/write on adapter board.
STMB011 Read password from BE key/China key/erase/write key dump Via IR.
STMB012 Grey key functionality - read/ prepare/write Grey key for programming new EIS.
STMB013 Read Original key/BE Key/China Key/BGA Key status/key version/Frequency VIA IR
STMB014 All key by IR Password read - All Key versions/Keyless/BGA.
STMB015 Renew all ESL/ELV Types/used/blocks/not repairable/ Fast renew.
STMB016 Motorola ESL read/erase/write (on adapter board)
STMB017 NEC ESL read/write VIN/Odometer/Part Number/Production date/etc (On adapter board)
STMB018 ESL Doctor/Change Vin/Milage from ESL/ELV By K-Line.
STMB019 Program new ESL/ELV/EMULATOR/ Unlimited calculation/No tokens/No dealer pass.
STMB020 7G Resetting ETC (722.9) by OBD/CAN to the factory state without loosing of SCN coding.
STMB021 ISM Resetting by OBD/CAN to the factory state without loosing of SCN coding.
STMB022 ECU Renew Engine control units online.
STMB023 - YES - EIS Reset Odometer by CAN / OBD
STMB024 EIS Change odometer by CAN /OBD
DOWNLOAD Simon Touch MERCEDES NEC IR KEY AND 204 GL STEERING PROGRAMMER MANUALS
- MB Nec IR Key Tool Easy Manual V5
- How to program ESL Emulator
- How to renew used blocked unreparable ESL Easy manual
- How to repair change ESL Motor easy manual

Contact us for promo price