Creat Grey key to program new EIS/ Personalize the EIS/ No Star Diagnose needed.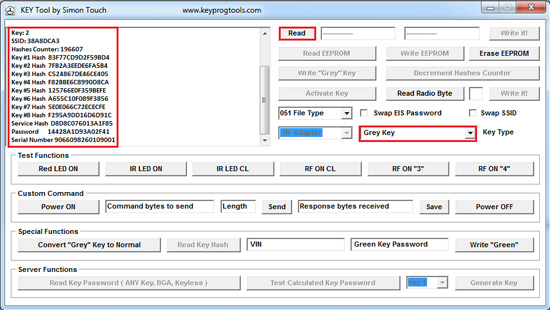 1- In the car on on the table, read the car EIS dump, the device will automatically save the dump in READ folder and it will create a default password.
2- Open the SKC software, load the EIS dump from read folder and calculate one key.
3- Now you have one key calculated data, put any used key Nec in the MB device socket, open the MB software and renew the key Nec same like you are programming a normal key but instead of clicking write, click GREY key, load the generated key and program the key Nec.
4- Solder the Nec key, this key becomes GREY KEY.
5- Bring new EIS, insert the key (GREY KEY) in the EIS, the key led will goes on for a seconds and off, new EIS is programmed, now you have new EIS with new working key.
P.S if you insert the key in the EIS and the key led didn't go on it means the EIS need activation, you can activate the EIS By obd.
6- If the car has a steering lock like 204, you need to renew the ESL as well.